Million Hearts® is a national initiative to prevent 1 million heart attacks and strokes in the U.S. by 2017 co-led within DHHS by the Centers for Disease Control and Prevention (CDC) and Centers for Medicare & Medicaid Services (CMS).

NACDD's contributions to the Million Hearts® effort, as a proud Million Hearts® partner organization, include:




Million Hearts® Stakeholders Workshops:

With support from CDC and the states, NACDD worked with 16 state public health agencies beginning in 2012 to plan and facilitate Million Hearts® Stakeholders Workshops and provide follow up technical assistance. Engaging Partners for Million Hearts® Success summarizes the work-shop process and highlights efforts in Iowa, New Mexico, Michigan, and Texas.



Medication Adherence Series:

The National Association of Chronic Disease Directors (NACDD) and the Association of State and Territorial Health Officials (ASTHO) implemented two national webinars, each followed by a virtual roundtable call on the topic of helping clinical providers improve the percentage of patients who take their hypertension medication as prescribed. The Medication Adherence Call Series Summary summarizes the series content and provides an overview of actions states are taking. Additional guidance on targeting state actions is found in the Million Hearts® State Engagement Guide.



Hypertension Issue Briefs




Undiagnosed Hypertension

(NACDD, June 2016) – open pdf

Current & Potential Roles of Public Health Nurses in Hypertension Prevention &
Control (APHN & ASTHO, November 2014) - open pdf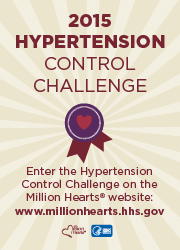 Million Hearts® Hypertension Control Champions See the most recent (2015) list of recognized health centers, health systems and medical groups and watch & listen to the CDC Director congratulate the Champions.

Million Hearts® Collaboration Messaging -

Monthly messages, articles and social media resources intended to ensure consistent messaging among Million Hearts® partners: